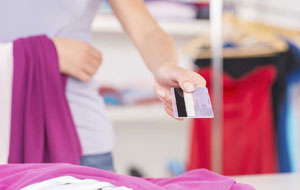 It's that time of year. The leaves are nearly finished turning, and most have fallen to the ground. The holidays are upon us.
With that comes spending. A whole lot of spending.
Increased customer traffic during these next months is not uncommon. Transactions will be aplenty, and sales revenue is at its peak as consumers prepare for the giving season. What this also means is the potential visibility of more criminals poised to plan and implement tactful thievery campaigns, robbing from busy retailers who are the ultimate target for payment card fraud schemes. It's scary for consumers, and it's scary for retailers who can't afford to be placed in operative jeopardy by fielding an influx of transaction challenges, and falsified payment information.
It's not easy to pick up on who is looking to steal from you. However, it is possible if you remain cautious and focused during these busy times. Here are some potential behaviors from prospective customers that might steer you to ask further questions….
Be on the lookout for customers who:
Purchase a large amount of "inconsistent" merchandise without regard to size, style, color, or price.
Fail to ask any questions about major purchases.
Try to distract or rush you during the sale.
Make purchases and leave the store, but then return to make more purchases.
Make large purchases just after the store's opening, or as the store is closing.
Refuse free delivery for large items.
If you are a card-present merchant with a POS, remind your staff to take these steps to ensure the legitimacy of every card, cardholder, and transaction:
Check the card security features. All major card companies have unique features built in to aid in protecting your business. Take advantage of them.
Make sure the presented payment card has not been altered.
Swipe the stripe. Swipe the card through the terminal in one direction only to obtain authorization.
Check the authorization response. Take appropriate action for the specific response.
Match the numbers. Check the embossed number on the card against the four digits of the account number displayed on the terminal.
Request a signature. Have the cardholder sign the transaction receipt.
Check the signature. Be sure that the signature on the card matches the one on the transaction receipt.
Some of these thoughts may seem tedious, especially when you're being inundated with customers, but they're all there to better protect and serve you.
And finally, make note of the information being provided by credit card companies as they work to help maintain a high level of security as well. For example:
Visa is committed to helping merchants better understand how they can best protect their businesses and customers. As part of this commitment, Visa regularly posts data security alerts on www.visa.com/cisp. These alerts focus primarily on common security vulnerabilities, attack methods, and emerging risks identified in the payment system. Keep your organization informed by accessing alerts, bulletins, and webinars by subscribing to RSS feeds at www.visa.com/cisp.
Again, protect yourself, your business, and your customers from fraud and security breaches. It takes some work, but far less work than what is headed your way if you look past the options you have in front of you.
If you have further questions about credit card fraud protection and POS security features, we can help. At Thrive Payments, we have the knowledge, secure card payment equipment and support you need.
Enjoy the holiday season!