Simplified Mobile Payment Solution
With Thrive Payments' flexible mobile processing you can turn any Apple or Android device into a mobile point of sale for your business.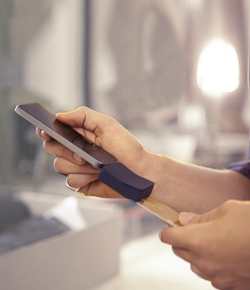 Our streamlined, EMV-ready application is the perfect solution for small and mid-sized businesses looking for a flexible way to securely process payments outside of a POS terminal. Expand the reach of your revenue, with mobile payment acceptance you can increase sales and save costs for your business.
SIMPLE SETTINGS AND SMART REPORTING
Easily configure multiple sales tax and tipping settings, view or search sales history, and even refund transactions directly in the app.
EFFICIENT RECORD-KEEPING
Keep records simplified by running cash, check, and card transactions in one place, sending receipts to customers via email or text message, and delivering a copy to the merchant.
FASTER SALES
Start selling faster by creating an inventory complete with pricing, bar codes, and product photos.
ROOM TO GROW
Each account supports up to 10 sub-users, making this solution ideal for businesses with multiple field personnel. Thrive Payments also offers larger, scalable user bases for enterprise-level merchants.
PROVEN SECURITY
Supports encrypted card readers and securely stores all transaction information via end-to-end encryption, eliminating the risk of confidential card information being accessed or recovered from a lost or stolen device.
100% DEDICATED SUPPORT
As always, you will be provided a dedicated support representative to assist you with any questions or concerns with your system.
Some of the features:
Supports iOS and Android mobile devices
In-app tipping functionality
Multiple In-app Tax Rates
Check and cash payment recording capabilities
Push Notifications and Merchant Engagement
Partial Refunds
Duplicated Transaction Prevention
Get started today and start accepting payments anywhere, contact Thrive Payments for your ideal card processing solution.
"Lorem ipsum dolor sit amet, consectetur adipiscing elit. Aenean vitae iaculis sem, vel faucibus risus. Mauris in tortor in massa euismod fermentum."
– John smith, ABC Bank