NCR Silver: tablet-based Point-of-sale (POS) system
A smarter POS system for your business: Easy to install, easy to use, very affordable. The perfect solution for your growing business.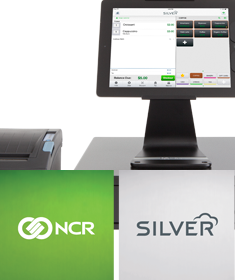 NCR Silver provides a powerful tablet-based POS system that gives you the power to manage your business efficiently and effectively. Flexible tools built to scale as big as you want to grow.
What is the NCR Silver POS System?
A system that allows your business to do much more than accept card payments:
Track employee time with a punch in-and-out feature.
Track inventory.
Get daily sales snapshots that are readily available.
Market to your customers easily and effectively, directly from your admin tools.
Offer your own loyalty program.
Utilize a powerful and expandable system that can be accessed from anywhere, allowing you to conduct business as needed.